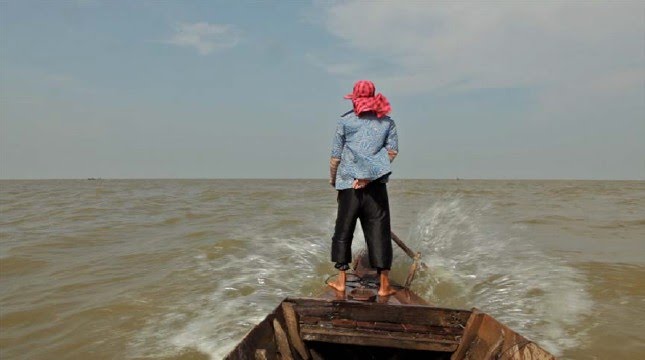 "I feel my life is divided in half," says Khieu Mok. Compelled by her family's mounting debts to trade the farmer's life in Svay Rieng for work in a garment factory on the outskirts of Phnom Penh, Khieu is torn between keeping her factory job in order to pay down those debts more aggressively, or returning to the mother who now longs for her return. At a loss, she finally doles out the fee to use a shop's telephone, and with a brave face, phones her mother for guidance. Upon being told to come home, Khieu hangs up and, seemingly torn between relief and worry, covers her face in her hands.
This is one of countless heartrending moments captured in A River Changes Course, a new documentary film produced by the Documentation Center of Cambodia (DC-Cam) with Youk Chhang as executive producer, directed by Khmer-American filmmaker Kalyanee Mam (cinematographer for the Academy Award-winning documentary Inside Job), and produced by Mam and Ratanak Leng. The film had its Cambodian premiere on October 11, 2012 at Phnom Penh's Chenla Theatre, with a rapturous reception by an audience of nearly 600 which included garment workers' families bussed in by DC-Cam from Takeo, Kampong Speu and Kampong Chhnang for the occasion.
Four years in the making, A River Changes Course charts the lives of three Cambodians and their families over several years. In addition to Khieu, the film gives a rare insight into two of Cambodia's minority groups, focusing on Sari Math, a young Cham fisherman living in Kampong Chhnang in central Cambodia on the banks of the Tonle Sap, as well as Samourn Sav, a member of the Cha-ray indigenous people living in a remote forest in Ratanakiri in far northeast Cambodia. All three principals and their families attended the premiere, and later joined the filmmakers on stage for a panel discussion.
Despite the differences in ethnicity, occupation and geographic location, we discover that the families share a common Cambodian experience, with the lives of the three principals joined by some entirely shared themes. Each is just trying to get by and provide as best they can for their family and for future generations. However, thoughts of the future are a constant source of worry and struggle for all.
Samourn details the deforestation in Ratanakiri and her fears that "Sooner or later it will all be gone." Sari, likewise, laments that, "For the future generations, all the fish will be gone," with overfishing now significantly reducing the amount and quality of fish which his family can catch in a day. Meanwhile, a surprise visit by debt collectors to Khieu's mother, one of whom smiles at her difficulty in paying the required amount, highlights the challenges created by mounting debts. Each worries that the future generations will only be able to work for someone else — whether a factory owner or the Chinese.
There is a kind of solidarity exposed in these shared experiences, a fraternity of the Cambodian people. This theme was underscored at the film's Cambodian premiere, when a Cham woman stood to thank Mam for showing that the Cham are just like other Cambodian people. In addition, when, during the panel discussion, Samourn was too shy to speak about her experiences, an audience member stood to address her. Waving at her in greeting, he explained that he was also a Cha-ray person, living in Phnom Penh, so Samourn should not feel she was alone. He coaxed her to convey her thoughts to the audience in their ethnic dialect, which he then translated.
A River Changes Course contains beautiful, tender and sometimes hilarious moments which prompted raucous laughter or conversation from the premiere audience, none more so than when Akai, Sari's younger brother, jumps naked onto a nearby boat, wriggles joyously, and dives into the river. Equally though, there are moments which will break your heart and which quelled the audience into a somber silence, such as when we learn that Akai later drowned at age 12.
The film is also technically spectacular. Mam's cinematography sets the scene with sweeping shots highlighting the stunning beauty of the country's land and water and the devastating scars that development has carved into the land. Her close and lingering shots of the principals convey their emotional responses to great effect, while Angie Yesson's sound design makes you feel you are standing right there with them, hearing every whispering wind, lapping of the waves, and rustle of rice grains as they are tossed and sifted.
While A River Changes Course reveals a Cambodia at a precarious crossroads, it also introduces Cambodian people who share an inspirational honesty, heart and commitment to their families' future. It is not an easy film, and its themes will linger for a long time, turning themselves in your mind. However, as a profound new take on the Cambodian experience, it is an important film and a must-see.
You can watch A River Changes Course at screenings around the country over the next few weeks. DC-Cam will screen the film at Kamarak Phumin Theatre in Koh Kong on October 15, Banlong Theatre in Ratanakiri on October 19 and Borey Andet Theatre in Siem Reap on October 23. All screenings are at 2 p.m. and you can obtain further information from Ms. Sa Fatily (phone: 012 511 914) or Ms. Kan Penhsamnang (phone: 077 614 618).