On Wednesday 22 July 2015, Transparency International Cambodia in cooperation with the Club of Cambodian Journalist launched the first journalism award ceremony for "Outstanding reporting on Corruption in Cambodia 2015".
The ceremony took place at the Himawari Hotel in Phnom Penh and aimed at rewarding and encouraging Cambodian journalists who are committed to fight corruption.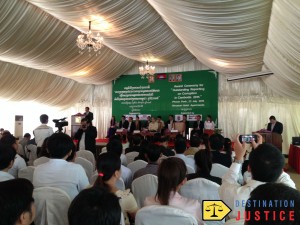 During the ceremony, Mr Ok Serei Sopheak, Transparency International Cambodia's Board Chairman, first explained how corruption is widespread in the society and that it remains endemic among local politicians and officials.  He added that the utopian goal of a corruption-free society will be a challenging journey.  He insisted on the fact that "we all need to collaborate to eliminate it" – even if it is a tremendous challenge.  That formed the baseline of this award ceremony.  One of the most effective way of fighting corruption is the use of independent and free media which are an extremely powerful tool to spread information well as naming and shaming the corrupted authorities.  But "reporting corruption requires courage from  journalists".
Moreover, youth is the best catalyser when it comes to fight corruption thanks to the use of social media.  It belongs to the next generation to take on and continue the fight against corruption with dignity and integrity.  Mr Ok Serei Sopheak added that "the information power is in [the youth] hands".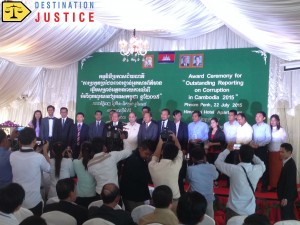 Then, Senior Minister Dr. Om Yentieng, President of the Anti-Corruption Unit (ACU), reaffirmed the crucial role of media.  He said that "the role of journalists in the decision making is extremely important, as media need freedom to fit the information […] and they have also a role to educate the society, and not to perpetuate its mistakes".  Senior Minister Dr. Om Yentieng finally added that "anti-corruption reporting must be based on anti-corruption law" which gives journalists a legal framework for their report and that "journalists need to build up their capacities and skills to improve their ethic and professionalism [on such sensitive topics]".
Finally, Mr. Chhay Sophal, Executive Director of the Club of Cambodian Journalists explained the procedure that had been followed by the jury to give the scores to the contestant and announced the award winners. Were awarded Mr. Phak Seangly from the Phnom Penh Post, Mr. Im Navin from Radio France International, Ms. Khorn Champa from ThmeyThemey, Mr. Aun Chhengpor and Mr. May Titthara, both from the Phnom Penh Post.