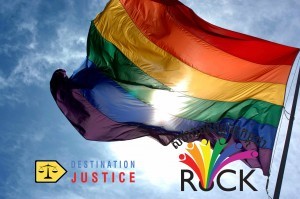 Destination Justice est fier d'annoncer la signature d'un Memorandum of Understanding  (MoU) avec la RainbOw Community of Kampuchea (RoCK), une organisation de soutien et plaidoyer pour les droits des lesbiennes, gays, bisexuels et transgenres (LGBT) au Cambodge.
La RainbOw Community of Kampuchea (RCK) est une organisation LGBT. Elle a été formée après le succès de la Semaine de la fierté (Pride Week) en 2009 (10-17 mai) lorsque les bénévoles organisateurs ont décidé de continuer à travailler ensemble pour améliorer la vie des personnes LGBT au Cambodge. La Pride Week qui implique divers événements (ateliers, festival du film, exposition d'art, couverture médiatique, événements sociaux) a été une expérience enrichissante pour la communauté cambodgienne LGBT. Cela a été l'occasion pour les membres de la communauté de partager leurs expériences et leurs préoccupations, ainsi que d'apporter plus de visibilité à leurs vies. Ils éprouvaient un sentiment plus fort de communauté et souhaitent donc le perpétrer en continuant à travailler ensemble pour apporter plus de compréhension et de la visibilité des personnes LGBT à la société cambodgienne.
À Destination Justice, nous croyons fermement que la justice sociale pour tous ne peut être atteinte avec la discrimination touchant les personnes en raison de leur identité, de leur d'orientation sexuelle ou de leur genre. C'est pourquoi au regard de ce MoU, Destination Justice appuiera les travaux de RoCK en offrant ses services en tant que consultants juridiques.