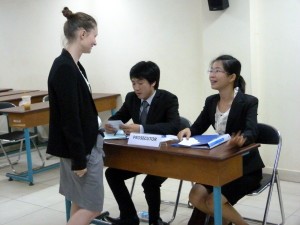 Six months after having been coached by three of the Destination Justice associate consultants – Julianne Romy, Mélanie Vianney-Liaud and Céline Martin – for the national round of the ICRC Moot Court Competition 2012, students come back on their experience and what it has brought to them.
For a month and on a daily basis, Destination Justice staff trained Sothy (22), Sreynith (22), Sengheng (23) and Daro (23) in both advocacy and drafting skills and in International Criminal Law and International Humanitarian Law.  The four students are currently in their last year of Bachelor in International Relations at the Royal University of Law and Economics.  The ICRC moot court competition was the first law competition in which they had the opportunity to participate through Destination Justice's Legal Education Assistance Program.
Sengheng starts: "Before being trained by Destination Justice, I never gave a speech in public.  After a month of training, I felt more comfortable to speak in public and more confident on how to attract attention from the audience".  Daro adds: "It helped me to deliver my thoughts to other people.  Before, I used to keep everything in my mind. Now I can effectively explain and present my ideas to others".
One of the skills they enjoyed to develop was to learn how to work in a team.  They are currently applying this way of working by writing the Bachelor's thesis together. Sengheng and Sreynith have chosen to focus on the Cambodian labor migration in Asia while Daro and Sothy are looking at the political and human rights impact of the United Nations Transitional Authority in Cambodia.
Sothy says "if I did not get the training provided by Destination Justice, I would have failed my International Humanitarian Law class", Daro and Sengheng agree "and it also helped for International Criminal Law class.  It was easier to understand everything".  The three of them got the highest scores of the class at their IHL final exam.
Out of the 28 students from their class, only 4 got a scholarship to study abroad. Sothy and Daro are among them.  Scholarship requirements include experience and social work.  Sothy says "I included the ICRC moot court experience and the simulation in European Law class taught by Rodolphe Prom in my application".  Daro, a former Destination Justice intern, adds "I got a recommendation letter from Destination Justice that helped me for my scholarship application and I mentioned in my candidature the skills I learnt".
As a first-generation-student in the International Relations Program, Sengheng hopes that Destination Justice will be able to train the next generations of students "because it can provide practical skills to students and the recognition of our degree outside the University".
At the question, "would you recommend Destination Justice training and coaching to other students?", Daro answered "Yes! Absolutely!".
Meet the students
Sengheng Ieng
Sengheng is from Phnom Penh.  After completing his bachelor in International Relations in August, Sengheng would like to work in the labor rights' field.  He applied for an internship at the Cambodian Ministry of Labor and is waiting for an answer.
Daro Lay
Daro is from Kampong Cham province.  Daro interned at Destination Justice from November 2012 to March 2013. Thanks to a scholarship, he will start in September a Masters in Law and Business at the Transitional Law and Business University (TLBU) of Seoul, South Korea.  His dream is to complete a PhD in the United States and then to come back to Cambodia to teach and work in the rule of law and human rights field.
Sothy Lek
Sothy is from Kampong Cham province. Sothy is working at the Ministry of Justice since September 2012.  He got a scholarship to integrate the Master of Arts of International Studies at the Chulalongkorn University in Thailand.  After this experience, he would like to come back to Cambodia and work for the Ministry of Justice.
Sreynith Lim
Sreynith is from Prey Veng province.  She is working at the National Employment Agency since January 2013. Then, she would like to work for the Government.