On 9-10 July 2015, the 4th International Conference on International Relations and Development was held at Mahidol University in Bangkok (Thailand).
The ICIRD provides a platform for academic analysis and exchanges on ASEAN, as well as critically addressing issues of human rights, development, democracy, governance, peace, etc. in Southeast Asia from interdisciplinary perspectives. The forum is open to academics, researchers, graduates, civil society organisations, government officers and regional as well as international organisations.

The 2015 Conference focused on "Traversing the next ASEAN: Challenges and prospects in Development, Democratisation, Human Rights and Peace". The conference was hosted by the Institute of Human Rights and Peace Studies of Mahidol University and co-organised with Thammasat University, Chulalongkorn University, and Chiang Mai University.
Special focuses were drawn in plenary sessions on the "Situation and experience of Rohingya as rejected people", on "The power of "I" as Identity, Intersections and Interests Living SOGIE in ASEAN", and on "The democracy drawbacks in Southeast Asia".
Six parallel sessions were organised where forty panels discussed ASEAN politics; Labour, Migration and Refugees; Development and Business; Regional and State policy; Environment issue; Conflict Management and Resolution; Governance and Democracy; Indigenous and minority rights; Human Rights.
Regarding the current state of politics and internal affairs in Thailand (i.e. the release from detention by a military court of 14 students facing sedition charges after organised an anti-coup peace rally on 26 June 2015), the conference organisers congratulated themselves that no incident happened allowing critical and constructive discussions.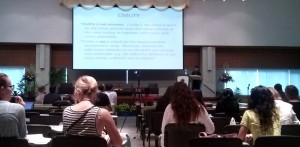 As a PhD student affiliated to Aix Marseille University (France) and a Destination Justice's affiliate Consultant, I presented a paper studying the case of Cambodia within the context of business and human rights in ASEAN and globally.
Abstract:
In this context of growing international concerns over human rights fundamental principles enforcement in and by businesses, ASEAN member states are due to integrate into an ASEAN Economic Community (AEC) by the end of 2015.  Nonetheless, to date, there remain large gaps to be filled in a very small amount of time in order to create a functional and sustainable common economic market ­ gaps which have been highlighted by the AEC's detractors.  The most obvious gap appears between the economic development of each country.  The second is the vast difference between each country's human right compliance record, as well as their level of implementation of the law in general.  If these issues remain unaddressed by ASEAN and each of its member states, they could damage the realisation and long-term viability of what will become one of the biggest economic entities in the world.
A case study of the state of business and human rights in Cambodia will encompass the need for a better implementation of the UN "Protect, Respect and Remedy" Framework as well as the need for a more comprehensive enhancement of private initiatives such as the ILO Better Factories Cambodia Program
The full paper can be downloaded here.