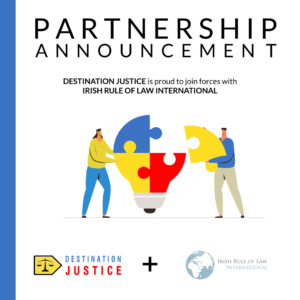 On 4 August 2021, Destination Justice and Irish Rule of Law International signed a memorandum of understanding (MOU). With both organisations being longstanding non-profits promoting access to justice and human rights for all, the MOU will serve as a platform to facilitate future collaboration between the two.


This collaboration has significant potential to create human rights impact in light of the organisations' complementary skills, experiences and primary focal areas — Irish Rule of Law International in Africa and Destination Justice in Southeast Asia.
Indeed, exciting projects are already underway. Irish Rule of Law International is currently overseeing pro bono legal research support from Irish lawyers to Destination Justice's existing work supporting at-risk human rights defenders in Southeast Asia, particularly for upcoming UN Universal Periodic Review sessions and for future engagement with European regional bodies.
What's your reaction?
1
Like
0
Celebrate
0
Love
0
Insightful
0
Curious