We are pleased to announce that the Embassy of Sweden has decided to support Destination Justice in bringing the ICC Exhibit Justice Matters to Cambodia.
With the Philippines, Cambodia is one the rare ASEAN countries that have signed and ratified the Rome Statute of the International Criminal Court. Moreover with senior leaders of the Khmer Rouge remaining on trial for genocide, war crimes and crimes against humanity, celebrating the International Justice Day with the ICC exhibit "Justice Matters" will have particular resonance in Cambodia as it uses intimate portraits and videos to explore how justice is crucial to survivors of the world's most heinous crimes, and how it matters to the world as we strive together to achieve lasting peace. It also illustrates the daily matters of justice, inside the ICC Courtroom and behind the scenes, to show exactly what it takes to make justice happen.
Similar exhibits have taken place in numerous locations around the world, including the World Forum in The Hague and at Utrecht University.
As a member of the Coalition for the International Criminal Court (CICC), a coalition of around 2500 civil society organisations from over 150 countries, Destination Justice works to strengthen cooperation with and awareness of the International Criminal Court (ICC), and to enhance the understanding of International Criminal Justice, especially in relation to the Khmer Rouge Trial.
The exhibit will be launched on the International Justice Day (17 July) at the Mansion (32 Bd Sothearos, Phnom Penh) and open to the public from 2pm till late until Sunday 20 July.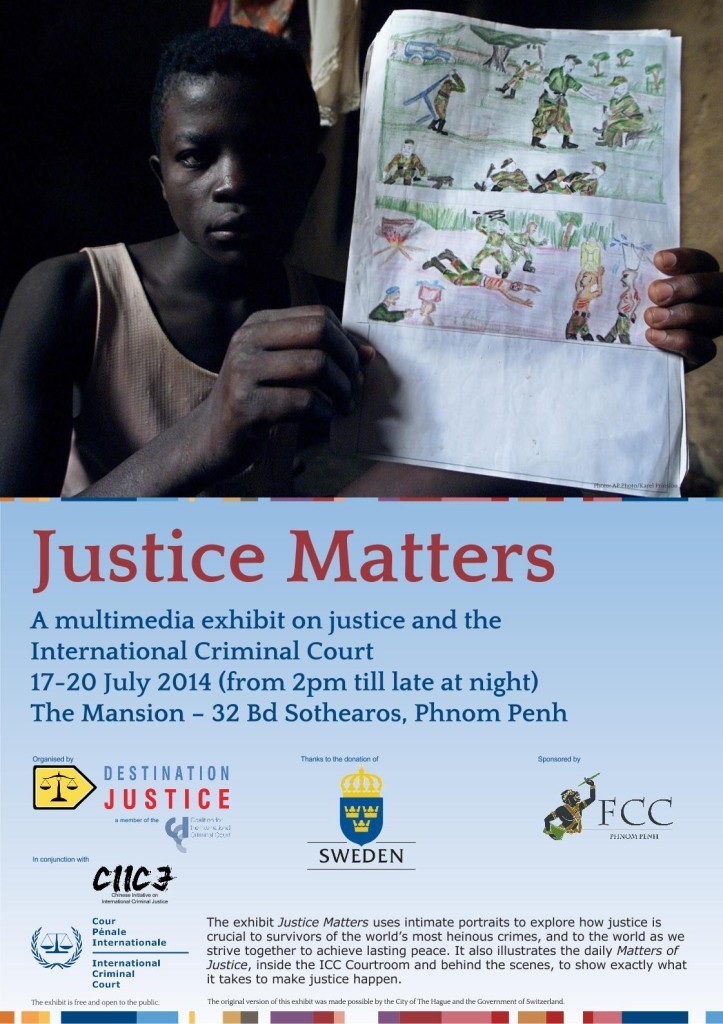 Update 17 July 2014: The ICC Exhibit Justice Matters has been officially opened by H.E. Khiev Sophany, Under-Secretary of State for the Ministry of Justice, & M. William Smith, ECCC's Deputy Co-Prosecutor. See the photos below:
What's your reaction?
0
Like
0
Celebrate
0
Love
0
Insightful
0
Curious