On 23-27 February 2015, Destination Justice launched a training program titled "Alternative Dispute Resolutions & Access to Justice: Assisting Your Client Out of Court" for 54 lawyer students at the Lawyer Training Center in Phnom Penh.
Destination Justice and the Bar Association of the Kingdom of Cambodia have worked cooperatively since 2013 under a joint Memorandum of Understanding (MoU) which had been recently renewed until 2016.
As part of our cooperation, Destination Justice reviewed the existing syllabus and material resources of the Lawyer Training Centre and discussed students' needs and emerging issues with practitioners. Our review indicated that practical skills training in common practice areas such as Alternative Dispute Resolution (ADR) was an essential area that could be developed within the existing curriculum and build on the Bar Association and Destination Justice's mutual aims to improve technical legal capacity for the benefit of access to justice and rule of law in Cambodia.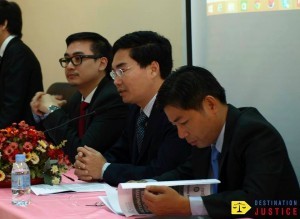 H.E BUN Honn – President of the Bar Association of the Kingdom of Cambodia – and Mr. PROM Rodolphe – President of Destination Justice – opened the week-long intensive workshop, welcoming numerous national and international legal practitioners as guest speakers to address various parts of ADR practice (see the guest speaker list below).
Using an interactive, critical and practical skills approach to training, the course also addressed a number of current topics in ADR practice in Cambodia. Topics addressed ethical issues for lawyers acting as negotiators, mediators and legal representatives in arbitration, the use of mediation to deal with domestic violence (a traditional use of ADR in Cambodia) and the incorporation of principles of fairness and international labor standards in labor arbitration.
Destination Justice is pleased that over 95 percent of lawyer students were "remarkably satisfied" and "appreciative of the quality of lectures and activities given by the guest speakers". This eagerness endorses the work accomplished during this week-long intensive workshops and hence, encourages all stakeholders to keep moving forward.  We look forward to following the progress of trainee lawyers as they graduate and commence their careers and expanding the course offering for future student intakes.
Destination Justice will continue its collaboration with the lecturers and organisations involved during the workshop to ensure the sustainability of this key event. The collaboration of the Lawyers Training Center, Arbitration Council, Legal Aid of Cambodia, National Commercial Arbitration Center, Transparency International Cambodia and other legal experts was key to ensuring the success of the event and supporting growing recognition of ADR expertise in Cambodia.
Destination Justice would like each of the guest speakers who generously gave their time and energy and for which the training course would have not otherwise been possible.
Cambodian Guest Speakers
Ms ANN Vireak, Arbitrator of the Arbitration Council and Licensed Attorney-at-Law, addressed "Labour Arbitration and how promoting independence and accountability in ADR";
Mr. NY Chandy, Member of the Bar Association of the Kingdom of Cambodia, lectured on "Overview of ADR mechanisms in Cambodia";
Mr. PECH Pisey, Representative of Transparency International Cambodia, presented on "Limits of litigation and access to justice";
Mr. ROS Monin, President of the National Commercial Arbitration Center, gave a presentation on "Nation commercial arbitration framework, national development and the rule of law" and organized a group discussion related to this topic;
Ms SIN Kimsean, Arbitrator of the Arbitration Council on labour disputes and Arbitrator of the National Arbitration Center on commercial disputes, gave a training on "Creative resolutions and principles of fairness and rights in arbitration in Cambodia".
International Guest Speakers
Ms Olga BOLTENKO, Arbitration Counsel at the European Centre for Legal Cooperation and Arbitral Clerk to Mr. Neil Kaplan QC CBE SBS in Hong Kong, addressed the following topics:
"Interviewing clients and assessing different ADR options";
"Preparation to give client advises";
"Introduction to negotiation skills and approaches";
"Introduction to mediation and arbitration";
"Drafting an ADR clause";
"Settling disputes and enforceability of ADR mechanisms";
Ms Robin MAUNEY, Independent Consultant on children and women rights and United Nations Women Consultant, focused on "ADR, Mediation and domestic violence research in Cambodia".
Mr. Romesh WEERAMANTRY, Foreign Legal Consultant at Clifford Chance based in Hong Kong focused on international commercial arbitration and investment arbitration, presented on "Dealing with evidence in ADR and unexpected issues in ADR".
What's your reaction?
0
Like
0
Celebrate
0
Love
0
Insightful
0
Curious