On Friday, 3 July 2015, in a quiet corner of Phnom Penh, Destination Justice officially opened the doors to its new Justice Café & Library.  The café brings to life a simple concept: to support, connect, and inspire young people advocating for better justice in Cambodia.
"In Cambodia, freedom of expression, association and thought are increasingly under threat.  The Justice Café & Library is our response to that: it's a safe and participatory space where young people can meet and develop ideas that can change the world," said Destination Justice's President Mr. Rodolphe Prom.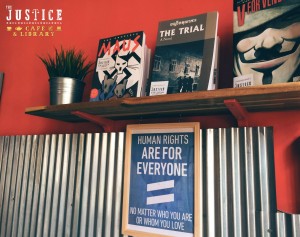 One way the Justice Café & Library hopes to inspire change is by providing access to resources.  This includes free wifi, tablets, and a physical/electronic library focused on human rights, rule of law, education, innovative ideas, and social change stories.  This is a rarity in a country with hardly any libraries at all and the first free resource centre in Cambodia dedicated to young people and advocating justice.
Destination Justice's staff, who work next door, are on hand at the café to offer advice and research support.  Another source of inspiration are the social changemakers who participate in the Justice Café & Library's regular events including workshops, film screenings, and trivia and game nights. Most recently, on 17 and 18 July 2015, four young Cambodian justice leaders led interactive dialogues celebrating International Justice Day.  The discussions engaged young people on the importance of international and local justice.  Upcoming events at the café include a workshop on LGBT rights and a Mario Kart Wii tournament.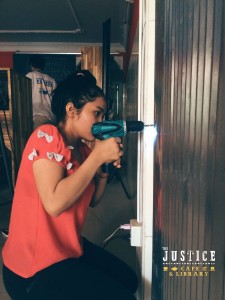 Ms. Sophanny Mom, a Justice Ambassador and Associate Consultant at Destination Justice, said that the Justice Café & Library offered "the perfect balance; it lets me grab my favourite cappuccino, fight off sleep, and appreciate all the great books and resources available at the café!".
A striking feature of the café is that it was not only created for young people but also created by them.  Most furniture and design features in the café were hand-built by Destination Justice's young Cambodian and international team, who used local and recycled materials — and plenty of elbow grease and positive thinking — to transform an empty space into a vibrant epicentre for change in just a year's time.
The other essential ingredient in the Justice Café & Library's success has been sponsorship.  In particular, French financial advisory firm CFIDEV provided a start-up grant to fund initial construction; countless individuals and organisations donated all of the available resources; graphic designers created the logo and other artwork free of charge;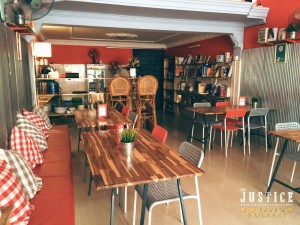 and several volunteers have helped build and now run the café.  Further sponsorship in any form would be very welcome — whether it be through financial support, expertise, equipment or café stock, volunteers, or sponsorship of a scholarship for a Justice Ambassador.
The Justice Café & Library is the latest project from Destination Justice, a start-up non-profit law, governance and development organisation.  Destination Justice aims to strengthen human rights and rule of law in a pragmatic, collaborative, sustainable and holistic way.  It was established in 2011 with headquarters in France, a sister association in Australia, and a field office in Cambodia.
All profits from the Justice Café & Library are reinvested directly into Destination Justice's advocacy for better justice in Cambodia, making our work sustainable in the long-term.  Our work includes Justice Roadshows where Destination Justice's team travels around Cambodia speaking to young people about what justice should be and what it means to them; and the Justice Ambassadors project, providing training and mentorship to young Cambodians interested in careers in the justice sector.
CONTACTS AND FURTHER INFORMATION:
Media and sponsorship inquiries should be directed to Rodolphe Prom at info [@] destinationjustice.org.
Further information on the Justice Café & Library can be found here:
Further information on Destination Justice can be found here:
More photos on the Facebook pages of the Justice Café & Library and Destination Justice.
What's your reaction?
0
Like
0
Celebrate
0
Love
0
Insightful
0
Curious