On Monday 30 September 2013, Destination Justice and Transparency International Cambodia (TIC) signed a Memorandum of Understanding (MoU) formalising their commitment to collaborate in the areas of accountability, integrity, anti-corruption and legal reform.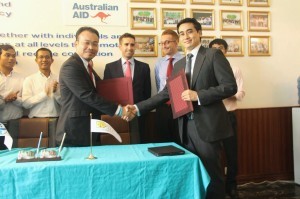 Transparency International, with an international secretariat in Berlin, Germany, is the leading global civil society organisation fighting against corruption. It counts more than 90 chapters worldwide. The chapter in Cambodia was officially founded on 5 July 2010 and since then has been working with relevant national and international stakeholders including government, civil society, businesses, media and individuals to promote integrity and fight corruption in Cambodia.
Destination Justice strongly advocates for better access to information, we see enabling the effective use of information as a key to good governance answering to the necessity of transparency and accountability. We are therefore delighted to team up with Transparency International to promote transparency, social accountability, legal reform and anti-corruption.
What's your reaction?
0
Like
0
Celebrate
0
Love
0
Insightful
0
Curious