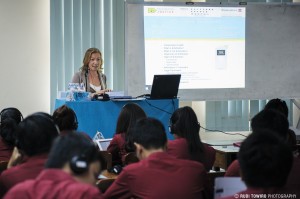 Destination Justice, in cooperation with international law firms Clifford Chance and Wilmer Hale, organised an Arbitration Training Course held at the Lawyers Training Centre of the Bar Association of Cambodia. This course began on 6 November 2013 and ran until 8 November 2013.
With the establishment of the National Arbitration Center in Cambodia, the course, which was the first of its kind in Cambodia, was an important opportunity for students to enhance their knowledge of the field of arbitration. The course focused on arbitration, mediation and conciliation as well as on practical skills such as advocacy and writing legal submissions. The course also developed students' knowledge of international best practices in the field of arbitration. This course will be a part of an ongoing curriculum at the Lawyers Training Centre.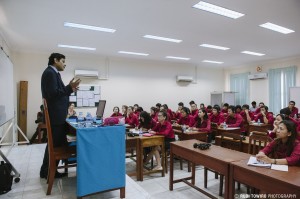 The course was conducted by Ms. Olga Boltenko and Dr. Romesh Weeramantry, experts in the field of international arbitration. Ms. Boltenko previously worked at the Permanent Court of Arbitration based in The Hague and as a Senior Arbitration Associate at White and Case, based in Paris, while Dr. Weeramantry worked at the Iran United States Claims Tribunal, based in The Hague.
This seminar has been organised as part of Destination Justice's Legal Education Assistance  Program (LEAP), a core element of Destination Justice's approach to enhancing rule of law, access to justice and access to information. Through these objectives, Destination Justice aims to enhance the legal education and professional development of lawyers in Cambodia.
Speaking after the first day of the course, Destination Justice's President, Rodolphe Prom stated:
"Destination Justice is privileged to be in a position where we can connect soon-to-be Cambodian lawyers with world class arbitration training experts.  This week's arbitration course at the LTC, organised in collaboration with Clifford Chance and Wilmer Hale, is a wonderful example of how international private sector stakeholders can have a positive influence on the development of a country such as Cambodia. With its Legal Education Assistance Program, Destination Justice is committed to the development and improvement of legal education in Cambodia and will call soon on other international private sector stakeholders to contribute towards this goal."
Ms. Boltenko also gave her comments after the end of the first day, saying:
"One cannot overestimate the importance of providing arbitration training to young Cambodian lawyers. It promotes arbitration as a dispute resolution mechanism in Cambodia and strengthens the rules of law generally. I am proud to note that two major international law firms – Wilmer Hale and Clifford Chance – support this pro bono training effort."
What's your reaction?
0
Like
0
Celebrate
0
Love
0
Insightful
0
Curious